Postkort fra Telemark; Skien. Hjellevannet.
Postcard from Telemark; Skien. The Hjellevannet Lake.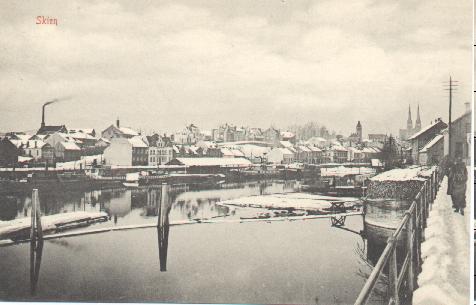 Utgiver: Erik St. Nilssen
Hjellevannet og Lundetangen sett fra Gims°y. R°yken kommer fra Lundetangens Bryggeri (1854-1984). Bygningen som delvis skjuler kirken er den gamle slusevokterboligen som brant.
The Hjellevannet Lake and Lundetangen seen from Gims°y. The pipe with the smoke is the Lundetangen Brewery (1854-1984). The building partly covering the church is the sluice-keeper's residence, the sluice being between the river (at sea level) and the Hjellevannet Lake (altitude 5 MASL). It (un)fortunately burned down in the 1970'ies.